Schichtleitung Lebensmittelindustrie (f/m/d)
Machen wir die Welt zu einem besseren Ort, einen leckeren Bissen nach dem anderen.
Wir sind Planted und wir haben Grosses vor – und dafür brauchen wir DICH!
Nach Jahren der Forschung wurde Planted im Juli 2019 als Spin-off der ETH Zürich gegründet. Unser Ziel ist es, die Welt besser zu machen. Mit einem revolutionären Plan: Biostrukturiertes Fleisch aus Pflanzen, das dem tierischen in Nichts nachsteht, mit einzigartigem Geschmack und authentischer Textur punktet und in Nachhaltigkeit und Gesundheit Kilometer vorauseilt!
Planted ist mehr als ein köstliches Produkt - es ist auch eine Einstellung. Wir wollen die Art und Weise, wie Fleisch wahrgenommen und konsumiert wird, radikal verändern und einen Wechsel vom Verzehr tierischer zu dem pflanzlicher Proteine anregen.
Wir bewirken Veränderung. Nicht nur, weil wir können. Weil wir müssen.  Bist du auch hungrig nach Veränderung? Dann sei mit uns Teil der «Tasty Revolution»!
Deine Mission:
Du betreust den operativen Produktionsablauf, insbesondere von Produkten im Entwicklungsstadium.
Du stellst einen reibungslosen Ablauf sicher und bist für die täglichen Produktionsziele verantwortlich.
Du planst die Einsätze und führst die Produktionsmitarbeitenden.
Du bringst dich aktiv bei der Optimierung des Produktionsablaufs, des Produktes und der Implementierung von neuen Innovationen ein.
Du fungierst als Stellvertretung der anderen Schichtleiter.
Du arbeitest aktiv in der Produktion mit.
Du stellst die Sicherheits- und Qualitätsstandards sicher (HACCP, SOP.).
Du führst Schulungen für die Produktionsmitarbeitenden durch.
Du:
hast eine abgeschlossene Ausbildung im Lebensmittel- oder technischen Bereich, idealerweise als Lebensmitteltechnologe/-in EFZ oder Milchtechnologe/-in EFZ.
bringst Führungserfahrung und ein Flair für Lebensmittel mit.
hast fundierte Erfahrung im Lebensmittelbereich.
bist bereit in einem dynamischen Umfeld im 3-Schicht Modell zu arbeiten.
zeigst hohe Flexibilität und packst aktiv mit an.
hast sehr gute Deutschkenntnisse in Wort und Schrift, jede weitere Sprache ist von Vorteil.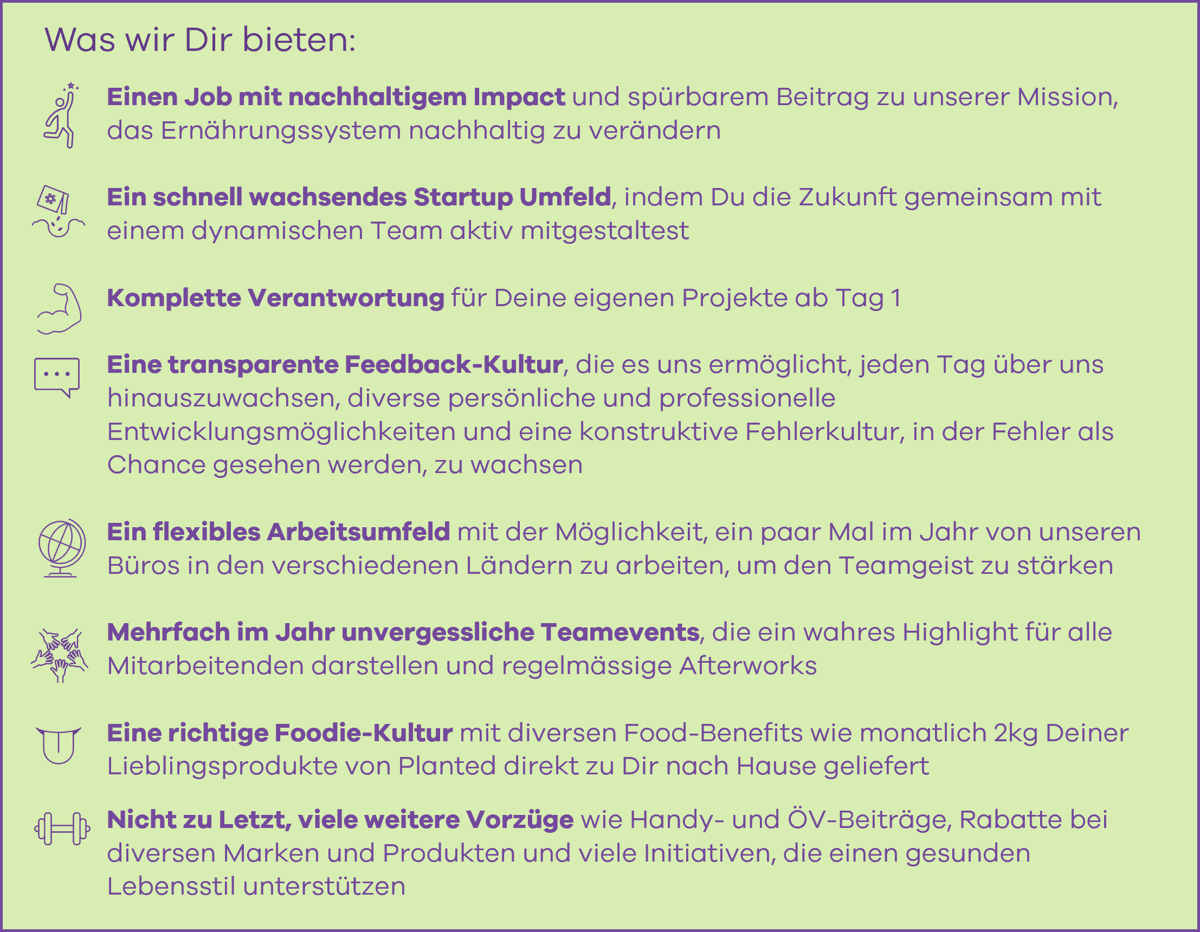 Wir freuen uns auf Deine Bewerbung. Gerne kannst Du ein persönliches Video beifügen, um uns einen ersten Eindruck über Deine Person zu verschaffen. Solltest Du Dich dafür entscheiden, Dich ohne Video zu bewerben, stellt das jedoch keinen Nachteil für Dich dar.
Bitte beachte, dass wir nur Bewerbungen berücksichtigen können, die direkt über das Online Jobportal eingereicht werden. Bei sonstigen Fragen steht Dir Joël vom Team Talent & Culture gerne zur Verfügung: joel@eatplanted.com
Das Produktionsteam freut sich auf Dich!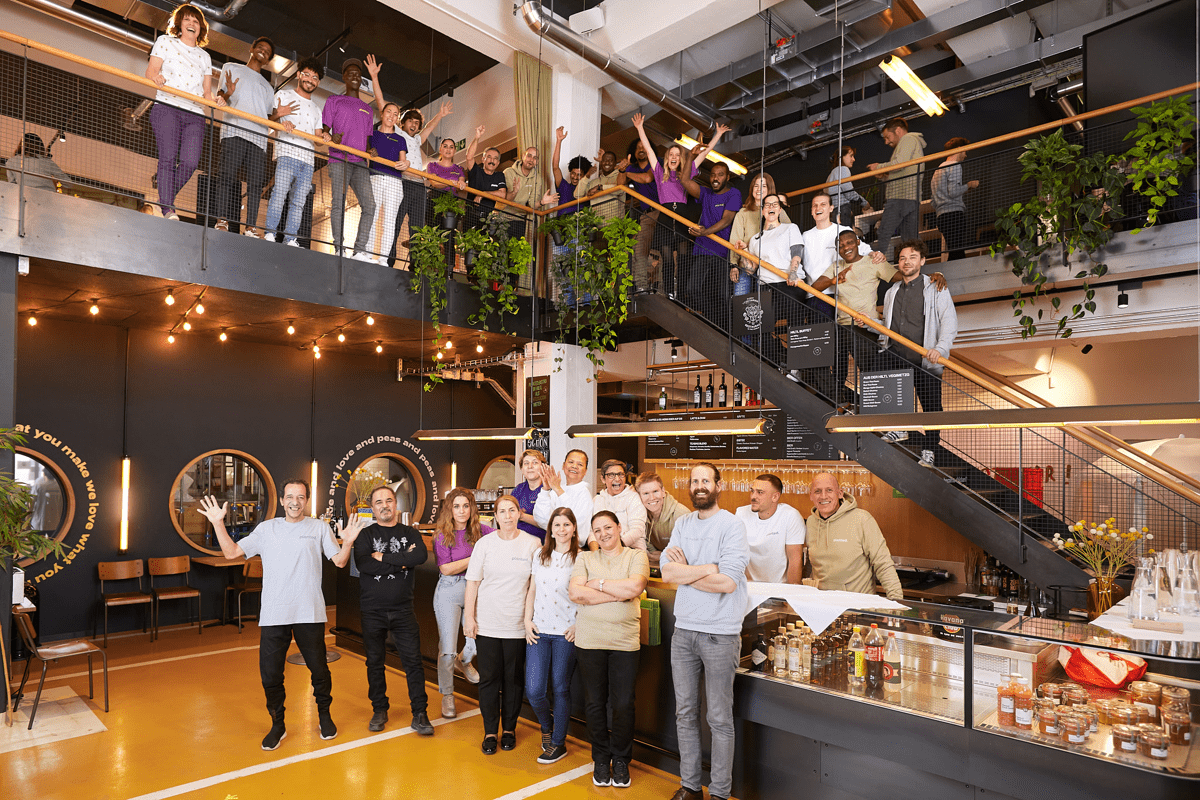 Department

Production

Locations

Kemptthal
About Planted Foods AG
We are Planted. After years of research, founded in July 2019 as a spin-off from ETH Zurich, it is our very aim to make the world better with a revolutionary plan: We structure meat from plants that is no way inferior to animal meat, scores with a unique taste, and authentic texture, and is miles ahead in terms of sustainability and health!


Schichtleitung Lebensmittelindustrie (f/m/d)
Machen wir die Welt zu einem besseren Ort, einen leckeren Bissen nach dem anderen.
Loading application form